The Peranakan Museum
is an institution that dedicates itself to documenting and retelling stories that speak of the Peranakan community in Southeast Asia. Their latest exhibition,
Amek Gambar: Peranakans and Photography
, is just another iteration of that mission. We meet with the museum's assistant curator, Dominic Low, who kindly shows us around the exhibition and tells us more about one particular photograph on display.
Dominic Low is an assistant curator at the Peranakan Museum. His previous projects include
Joseon Korea: Court Treasures and City Life
(2017) and the contemporary art commission
Grains of Thought
(2015) by Eng Tow. He received his BA in History of Art with Material Studies from University College London.
---
¹ Seah Liang Seah, G.R. Lambert & Co.
Peranakan Museum, c. 1900

Credit: The Peranakan Museum


³ The process of making an albumen print

CONTEXT AND SIGNIFICANCE

Dominic Low (DL)
: This is a photograph of
Seah Liang Seah
, who is himself, an incredibly important character in the history of Singapore and the history of the
Peranakan
community. He was the son of
Seah Eu Chin
, who was the leader of the
Teochew
community in Singapore. He succeeded his father as the leader of the
Ngee Ann Kongsi
, and was also very active in Singapore's political and cultural scene. After Whampoa, Seah was the second Chinese member to be part of the Straits Legislative Council, but he resigned in 1895 from the council in protest of the military tax that was to be levied on Singapore. He was a vocal and involved leader, and was also chiefly responsible for commissioning a sculpture of Queen Victoria. As a business leader, he moved within European circles with ease, and was often present at community events and commemorative occasions. On top of these involvements, he advocated strongly for the rights of the Chinese community.
The back of this photograph is fascinating because Seah writes in what is probably his own hand: "To S. Tomlinson. Yours sincerely, Seah Liang Seah". Below this, he writes his name in Chinese. At that time, it was not common for Peranakans to be conversant and literate in Chinese. They were, instead, more often fluent in English and their own Baba patois, itself a mix of Hokkien and Malay. We believe that "S. Tomlinson" probably refers to the municipal engineer Samuel Tomlinson. Tomlinson was responsible for the
Jinrikisha Station
on Neil Road.
By having a photograph made of himself, Seah Liang Seah was engaging in an activity that was common amongst other Peranakans. Many Peranakans were visiting professional studios to have their photographs taken. In this case, this portrait of Seah Liang Seah is a cabinet card. Although cabinet cards are slightly larger in size as compared to
cartes de visite
, like cartes de visite they were exchanged and collected as personal keepsakes. We believe that this photograph was directly commissioned by Seah Liang Seah.
Another reason for this photograph's significance was the fact that it was taken by the photographic studio,
G.R. Lambert & Co
. Out all of the early photographic studios in Singapore, G.R. Lambert & Co was the most famous and remained in operation for the longest period of time. The studio also produced images such as landscapes and portraits of famous personalities of the day. Originally from Dresden, G.R. Lambert set up his studio in Singapore in 1867 and closed in 1918. Many photographic studios, particularly European photographic studios, did not last for that long. I think the studio's success can be attributed to the colonial government's continued patronage of their services. The studio often served as the official photographer for the government on important events. Aside from the British colonial government's support, we can see that the studio was patronised by the Sultan of Johore and the King of Siam whose coat of arms appear on this photograph. They are also reproduced on the back of the card. This relationship to royalty probably was part of the reason many flocked to their studios to have their photographs taken.
Besides producing commissioned portraits, G.R. Lambert & Co. also produced photographs to be sold as souvenirs to tourists. The photograph of the "Chinese Mandarin" actually depicts
Cheang Hong Lim
, another prominent Peranakan philanthropist. Like Seah Liang Seah, he was an important businessman and leader of his community. Instead of his signature, here he is reduced to no more than the label of "Chinese Mandarin". He has lost his identity in this album. It is fascinating because this portrait of Cheang was probably a commissioned work, and as a pre-eminent figure, I doubt he would have consented to his photograph being used in such a manner. In the context of colonial history and how photography was often used to capture the exotic appeal of the East, this image reminds us of some problematic aspects of photography's history.
The photograph of Seah Liang Seah is an
albumen print
. Albumen prints are characterised by how the particles that form the image are embedded within a layer produced from egg white. It is the deterioration of the albumen layer that gives the image the yellowish tone. As compared to the daguerreotype, this was a later development in photography.
This photograph was donated to the museum, but interestingly enough, the donor found this photograph overseas. The photograph found its way back to Singapore, so to speak.
² Album leaf with five photographs including Cheang Hong Lim, G.R. Lambert & Co.
Peranakan Museum

Credit: The Peranakan Museum, Gift of Mr and Mrs Lee Kip Lee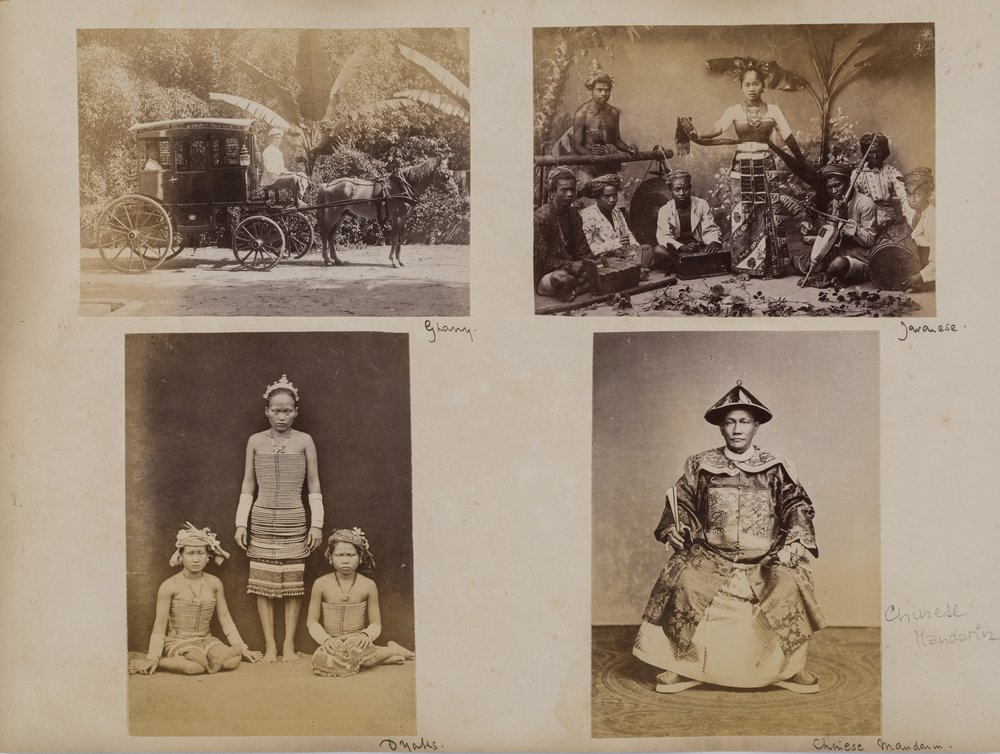 THE HISTORY OF THE PHOTOGRAPH AS AN OBJECT

DL
: Today we've become so used to viewing photographs and images on our handphones and magazines. Our understanding of photographs differ greatly from how photography was viewed during its early years.
This exhibition intends to draw attention to the photograph itself as an object, highlighting the remarkable speed at which photography arrived in Singapore at a time when the photographic technology was ground-breaking, and how Peranakans were amongst the first few communities to embrace this new technology. With the French state's purchase of the
daguerreotype
technology in 1839 and with the invention of the
calotype
in 1841, photographic methods swiftly made their way to Singapore. The first mention of photographic demonstrations was made between 1840 and 1841 by the Malay language teacher,
Munshi Abdullah bin Abdul Kadir
.
We also wanted to showcase the various photographic types within this exhibition. This goes against the trend of viewing and understanding photographs merely as images. When you look at various kinds of photographs closely, it becomes evident that they do differ on a material level. This is especially important to understanding the history of photography; and I would argue that from an aesthetic point of view, photographs made through varying processes look different and feel different as well. This determines how we handle the object, and our relationship to it.
⁴ Amek Gambar: Peranakans and Photography
2018, Installation View at the Peranakan Museum

Credit: The Peranakan Museum
CURATING THE EXHIBITION
DL
: We begin the exhibition by juxtaposing a salted paper print from a calotype and a daguerreotype. The daguerreotype is an image where silver particles sit on a polished metal copper plate, and a salted paper print from a calotype is where the silver particles sit on a paper surface. They are both often attributed as being the earliest forms of photography. The daguerreotype is named after its inventor,
Louis Jacques Mandé Daguerre
, and the calotype was invented by
William Henry Fox Talbot
. We began with these two objects in order to reference the larger history of photography, and to highlight how the history of photography was, from the get go, fraught with multiple narratives. It really comes down to what has been written and recorded, and which of those written records remain. Take the daguerreotype for example, the technology was the result of a collaboration between Daguerre himself and
Nicéphore Niépce
. Between the two of them, Niépce was the scientist and Daguerre was the showman. Yet Niépce's name tends to be relegated to the background. After all, the method of photography was named after Daguerre and not Niépce.
The complications that characterised the advent of early photography continued even after its introduction to this part of the world. As compared to the early European photographic studios who kept records and diaries of their operations, no such records exist for the later Chinese photographic studios. As a result of this, we've had to piece their histories together through different ways, and our interpretations have had to take these gaps in written records into consideration.
What this exhibition does is to put the photographs created by European studios and later Chinese studios into the same continuum, and the larger history of photography. Often when one studies the history of photography, particularly a Western history of photography, one is struck by the biographical nature of the study and its focus on the photographers themselves, the narrative being that of the photographer as artist. That is, of course, important to this exhibition because it marks the development of photography and how it was introduced to Singapore. But we've drawn attention to the agency of the photographic subjects, how Peranakans themselves embraced photography, such as the commemoration of weddings or funerals. We didn't want to privilege one history of photography over the other, and we've considered these in terms of how the objects are presented and how we've written about them. These photographs are interesting because they are early photographs, and not because they were made by a German or Chinese photographer.
This is followed by examples that demonstrate the speed at which these photographic technologies arrived in Southeast Asia. When we displayed these objects, we really wanted to allow viewers to view these objects up close. Especially with the daguerreotypes, viewing the image from different angles allows one to see the negative or positive image. The daguerreotype was also meant to be held in one's hands, and to be seen up close in an intimate viewing relationship. Although we are constrained by conservation standards, we tried our best to facilitate that experience for the viewer in terms of how we chose to display the object. We've also included a timed lighting system in these display cases, so as to minimise the exposure to light that these objects get.
We worked with the conservators at the
Heritage Conservation Centre
to bring out the materiality of these photographs as objects. We included videos in this exhibition that document how the conservators at the centre care for these photographs. These videos include topics such as how to prevent the photographs from degrading, how to treat them, and even tips for visitors on caring for their own photographs at home. Through these subtle touches, we wanted to bring the objecthood of the photograph to the fore of this exhibition.
With the emergence of
Kodak in 1888
and the
Brownie in 1900
, people began to take photographs by themselves. They no longer had to rely on professional photographers for these services, and that really shifted the agency into the hands of the sitter. You see the impact of the handheld camera quite immediately.
In light of the difficulties and complexities present in photographic history, it is important to note that this exhibition does not aspire towards providing an encyclopaedic step-by-step account of how photography developed. We wanted to approach the history of photography through the prism of our collection, and through the prism of the Peranakan community. The Peranakans were one of the first communities to embrace photographic technologies, sit for these photographs and later, to take up the camera themselves.
THE HANG


DL: The Peranakan house and its interior was an important point of inspiration for the display of this exhibition. For this exhibition we worked with guest curator Peter Lee, and together we wanted to hang these portraits in an almost idiosyncratic way, similar to how you would encounter them in a Peranakan home. We did not want to do a white cube sort of hang, and we felt that this method of display would make for a more intimate viewing experience. We chose the colours in the various spaces for their vibrancy, and these are colours that would be commonly found in a Peranakan house.

When you look at photographs of Peranakan homes and their interiors, you get a sense of how different kinds of frames were used alongside each other and how photographs were hung at varying heights. In comparison, a white cube display would have almost been too clinical, so we wanted this sort of display right from the outset. This exhibition is about how Peranakans from all walks of life embraced photography, so this mode of display tied into that idea very nicely.
⁵ Tan Kim Ching and Family, Fedor Jagor
Peranakan Museum, c. 1857–58

Credit: Peranakan Museum, Gift of Mr and Mrs Lee Kip Lee
OTHER NOTABLE PHOTOGRAPHS IN THE EXHIBITION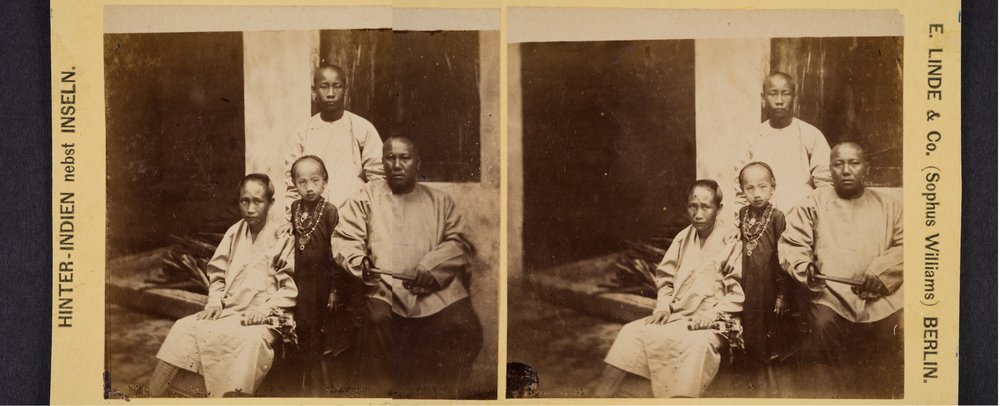 DL
: We have, in this exhibition, the earliest image ever made of a Peranakan family. This is a photograph of
Tan Kim Cheng
's family. Tan Kim Cheng was, of course, famous for introducing
Anna Leonowens
to the King of Siam. Aside from that, he was an important philanthropist, much as Seah Liang Seah and Cheang Hong Lim were. This particular photograph has been taken in the form of a
stereoview
. The two images have to be placed into a
stereoscope
, which would give the viewer a very rudimentary three-dimensional effect. What really unites this stereoview with Itier's daguerreotype is the fact that they were both taken by amateur photographers. These photographers were travelling the world and making these photographs for their own collection and not for profit. That, again, complicates the history of photography. Often, these amateur photographers operated alongside professional photographers and photography studios, and both groups had the same access to technologies and chemicals.
The sad thing is, of course, that we don't know who most of these sitters are. We hope that as time passes, we can identify more of these sitters. As a result, we had to rely on dress to determine who these sitters may be. Peranakans often wore Western dress as well, so we are aware of the limitations in relying solely on an analysis of dress. But this also ties in with our understanding of photography in general, because photography was used to capture representations of the self. The sitters themselves were definitely conscious of the power photography wielded, so they would have played into that in terms of how they dressed, posed or presented themselves.
We have photographs of a cross-dressing Baba, and this practice was common for
Wayang Peranakan
. In the same room, we also have a photograph of a cross-dressing Nyonya. There is a faint line that runs through the photograph, showing that it was a result of a double exposure. These interventions evidence that the sitters were clearly aware of the manipulative potential photography offered. They probably enjoyed it, and they engaged in these manipulations intentionally. We tend to assume that photographs tell the truth, but in reality, this is not necessarily the case. This is especially interesting given the relevance of issues like fake news today.
⁶ Untitled
Peranakan Museum

Credit: The Peranakan Museum, Gift of Mr and Mrs Lee Kip Lee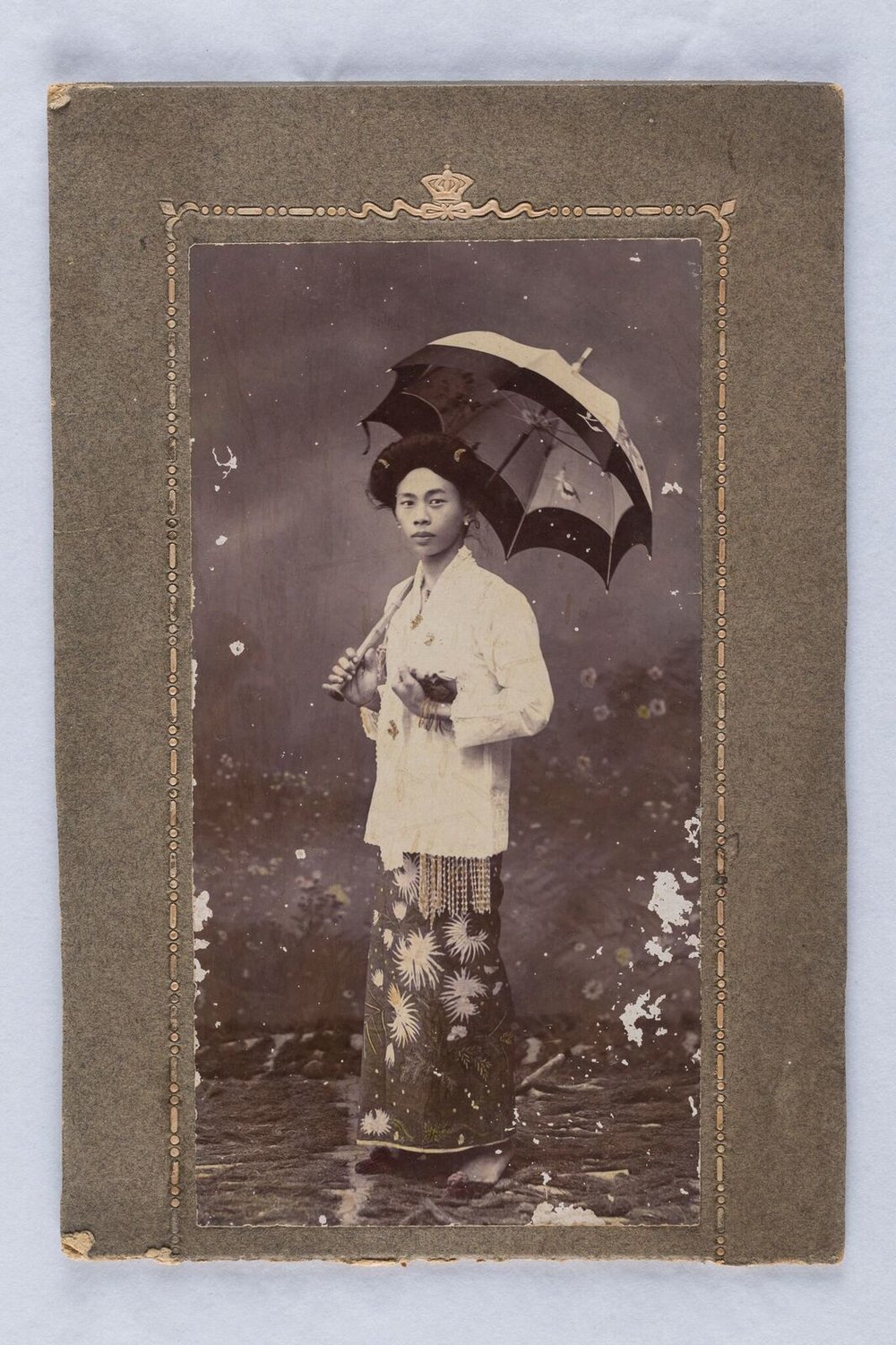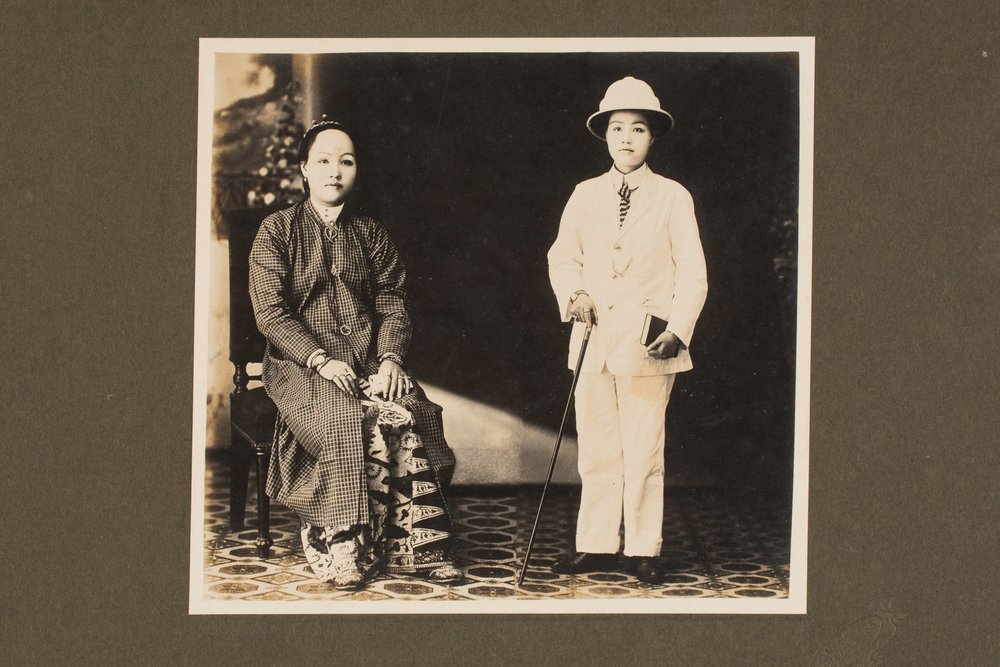 MODERN DAY INTERVENTIONS
DL
: Towards the end of the exhibition, visitors will encounter a group of works by artists Low Kway Song, May Oon,
Chris Yap
, Wah, Dick Lee and
Milica Bravavic
. The section showcases how photography was incorporated into artistic practices, revealing the expressive possibilities of the photographic medium, in addition to its documentary function which might be more palpably felt in the previous sections. I also hope that this section will prompt visitors to reconsider the photographs in the previous sections – could they also be considered as works of art?
Finally, in conjunction with the exhibition, the Peranakan Museum commissioned Singaporean artist
Sarah Choo
to create a site-specific work. Sarah's work in the lobby,
we stop to watch the world go by
(2018)
was inspired by the
camera obscura
, and incorporates a surveillance camera which I think addresses the moving image, and its position historically as the successor to photography.
Amek Gambar: Peranakans and Photography
is now open at The Peranakan Museum.
The exhibition will run until 3 February 2019.
More information regarding the exhibition can be found
here
.
---