As part of its continued commitment to emerging artists,
Gajah Gallery
recently put on the third edition of its
The New Now
series. This time, the Singapore-based gallery expanded the line-up to include artists from Malaysia, the Philippines, Thailand and Indonesia. We speak to the curator, Eya Beldia, about one of the works in the exhibition, and how she facilitates conversations through curation.
Eya Beldia is Gajah Gallery's representative in the Philippines, whose interests lie in creative forms of communication in Filipino contemporary art. She graduated from the
Ateneo De Manila University
, Philippines in 2015, with a Bachelor of Fine Arts, Major in Information, Minor in Chinese Studies, and is currently completing her graduate studies in Art History at the
University of the Philippines – Diliman
. She has also undertaken artistic residencies and curatorial projects in New York City and Singapore.
---
¹ The Sun Goes Down, Dini Nur Aghnia
2018

Photography: Gajah Gallery
SCULPTING PAINTED LANDSCAPES FROM CLAY
Eya Beldia (EB)
:
Dini Nur Aghnia
creates textured landscape pieces out of sculpted cornflour clay. Her works often explore solar phenomenon and occurrences, something that she thinks is often overlooked. In this exhibition, we exhibit two works by Dini — both of which are depictions of her surrounding environments. She creates circular clay moulds of various colours, and arranges them in a manner that gives the impression of the rising and the sinking of the sun across the fields in Yogyakarta or atop the Prau Dieng Mountain in Indonesia. Through these works, we're able to see the horizon she wakes up to every single morning. To the artist, these are small daily victories that she is grateful for. It is a value that many of us often overlook, and it is an experience that we often take for granted. This is why we sought space in the exhibition for this particular work.
The New Now
series is a platform that brings the ingenuity in contemporary art today into the gallery space. The practice of sculpting natural clay is a really unique process, and in it, I find a rather uncanny parallel to the way in which the screens we encounter today also comprise of these coloured pixels. Dini makes these circular pieces of clay by mixing together flour and pigment, and they are made of natural ingredients. Yet, we see echoes of these vibrant circles in some of the most technologically advanced devices used today. Dini's work also discusses a perspective, a contemplation on life, that finds relevance beyond the immediate context of her hometown in Indonesia. It is a work that stands at the intersections of body, mind and culture. It is an endeavour that we can all respond to — and this is also another plane of convergence — this time, between the artist and the viewer. Finally, I think that seeing a horizon in the way Dini has portrayed it highlights vulnerability on two levels. As an artist, she opens herself up to the viewer; but as a viewer, we share in this visual space with her as well. How do we preserve a horizon, both artistically and realistically? What are we doing environmentally to preserve such a view? There are a lot of layers to this artwork, and that's why we wanted to exhibit Dini's works in
The New Now III: Convergence
.
² The Sun Goes Down, Dini Nur Aghnia
2018, Detail

Photography: Gajah Gallery
AN EXHIBITION THAT CONVERGENCES ON MULTIPLE PLANES

EB
: This exhibition contains realms of experience, and exemplifies what artists working today are interested in. However, I cannot go through the experiences or practices of all the artists that are active at a particular point in time. When we were selecting the artists for this exhibition, we were looking for unique perspectives, processes, content and contexts. This exhibition is curated around the idea of convergence, and we wanted to include artists that conversed beyond their singular culture. When the sixteenth-century Japanese concept
一期一会 (ichi-go ichi-e)
was brought up, we all agreed that the idiom was still relevant to contemporary concerns today. In this age of connectivity, globalisation and intersections, how do we capture or contemplate this very moment that we are in?
We're constantly stuck in this rat race, especially for those of us who live in cities. Although I can't speak for everyone, I think I speak for myself and a fair amount of people when I say that there is always this nagging desire to speed things up. We wanted to speak to audiences on that level and as a curator, the best way to do so would be to speak through the very artworks. This exhibition was designed with the presence of the artworks in mind. We wanted to provide space for profound encounters, particularly amidst the images, information and intentions we are bombarded by today.
This exhibition was not brought about by ideas of thematics, and we did a lot of extensive research in preparation for this exhibition. I'm based in the Philippines, and I had to visit many exhibitions and speak to various artists so as to make informed decisions about the sort of works we could make space for in this edition of
The New Now
. This exhibition was really research-based. We wanted to included artworks that might not have otherwise been showcased in Singapore before. It is about finding the balance between skill, technique, concept and practice. Artists are committed towards creating works that represent their point of view vis-a-vis their environment and their unique processes. The framework of this exhibition was really to engage with various ideas, and we hope audiences are able to see the larger conversations that are happening within the space. This space is a platform committed to having a pulse on what artists are involved in and exploring at the moment, whilst balancing that with a universal perspective. We were careful to not arrange the works in this exhibition by country as well. In that way, this exhibition is in tune with the curatorial modes that prize research, discourse and action.
We all experience various energies; and this convergence of perspectives and perceptions in our daily lives is amplified through this exhibition. The range of artworks showcased reflect this. We have works that touch on the personal, the environment, and even the virtual. We observe this in our everyday lives, and in the working practices of artists in the region. I also find these resonances in allowing artists the space to discuss this amongst other Southeast Asian artists of their generation. This is not to say that we are merging these artists and their works together, but that we are making an effort to deepen the conversation around the sort of histories we are hoping to write for ourselves. This contemporary time will eventually become history, and as an art historian, I come to this from the perspective of wanting to learn about how we rally together to do things the right way. How are we moving towards a direction that progresses us forward?
The New Now III: Convergence
is an amalgamation, yet it also curated in defiance and against a single geographical or locational point. It is tucked within this globalised landscape of art, yet it is conscious of the various points that are collected within its space. That space, is to me, the object and the objective. This exhibition did not emerge from a singular artwork. This exhibition began as a discussion, and it became a question of what the space would allow. In this case, we encourage viewers to seek the threads that bind so that they can see the exhibition as a whole and the artworks within the space as objects of equal standing. All the works in the exhibition have their own voice, their own space and their own message. It is only when we place them on equal ground that we are able to see them converge.
³ The New Now III: Convergence
Installation View at Gajah Gallery

Photography: Gajah Gallery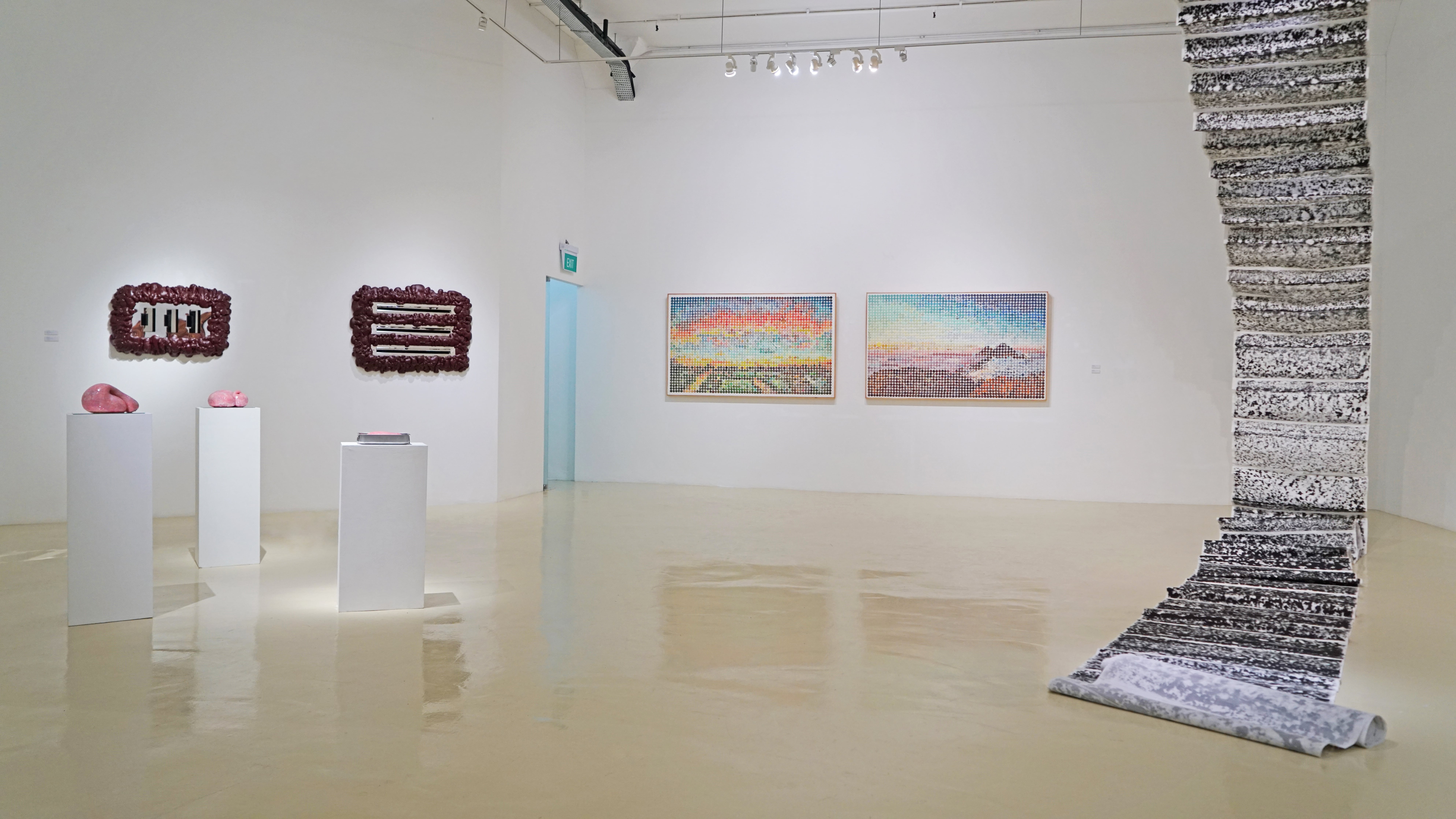 POSING QUESTIONS, CREATING SPACE, DRAWING CONNECTIONS

EB
: It might seem strange to viewers that we drew upon a sixteenth-century idiom when curating this exhibition, but we wanted to show how that very concept remains applicable centuries later. When curating an exhibition, that's something that I am very conscious of. The physical space of Gajah Gallery is a commercial gallery, yet it reaches beyond to embrace artists from the region.
The New Now
series started out as a platform for emerging Singaporean artists. Now, it has been expanded to include artists from Malaysia, Thailand, Indonesia, and the Philippines. There is a growing desire within the creative fields for expression, not just of a personal view, but a commentary on the state of the world and its affairs. I'm adopting a Japanese concept that sees an exhibition of this scale involve configuration, coordination and cooperation. Embedded into the exhibition are the various perspectives of the artists, but also the perspectives of the gallery that hosts the exhibition. The question I posed myself was how could an exhibition that sought varying viewpoints develop into the next encounter for contemporary art in Southeast Asia. In the exhibition catalogue, I note Singapore's ambition to be a hub for the arts of the region. It's a very bold vision. When one comes to the exhibition, one can see just how varied the concerns are for artists who are based out of different cities. There is a broad spectrum of talent and skills, and each nation is grappling with its own socio-political climate. Rather than thinking about this as a survey of contemporary artists in Southeast Asia, we problematise this notion of "regional" artists. It is not simply a question of who does what, and where they do it. It is a question of what these artists seek, and why they seek it. This exhibition was an opportunity to connect a diverse and dynamic mix artists.
For this exhibition, the contemplation encapsulates a larger community and a larger region. At the same time, it is an opportunity to provide space for these varying views and perspectives. Here, I have to
quote
Dr. Patrick D. Flores
, curator of the
University of the Philippines Vargas Museum
and the Artistic Director of the upcoming
Singapore Biennale
,
Every Step in the Right Direction
. Of his plans for the Biennale, he said that it will provide him "an opportunity to deal with the question of the global, to cross the nation-state borders [which also addresses] forms of extreme nationalism. Maybe we can develop a more productive idea of the international and the global, in the sense that this is can also be seen as an archive of the history of art, where instead of it being nation-based, it is complicated by the high level of relations among geographies." There is something about these ideas that he poses. It isn't just about putting artists together in a hub. As we continue to produce and consume contemporary art, we are creating histories. I say histories, because they are pluralistic. This exhibition reflects these histories, potentials, possibilities. It brings to light what has happened, what is happening, and what could happen within the region. After all, the exhibition is titled
The New Now
. We are focusing on the present, and the exhibition is a statement on the now.
⁴ The New Now III: Convergence
Installation View at Gajah Gallery

Photography: Gajah Gallery
---