Of the many talented artists that hail from Japan,
Takehisa Yumeji
perhaps ranks as as one of their most illustrious. Dr Naoi speaks to us about a particular print by well-known Japanese artist. Titled
Yoimachigusa
, orEvening Primrose, the print is from the
Nihon no Hanga Museum
's collection in Amsterdam.
Dr Nozomi Naoi
is Assistant Professor of Humanities at
Yale-NUS College
in Singapore. She specialises in modern Japanese art and the larger socio-historical context of the early twentieth century as it pertains to Taisho period prints and the media environment. She has researched extensively on the artist Takehisa Yumeji, and received the first Takehisa Yumeji Research Society Award in March 2017 for contributing to the Nihon no Hanga Museum exhibition,
Takehisa Yumeji: Artist of Romance and Nostalgia
(2015), and the accompanying exhibition catalogue. This was the first solo exhibition on Yumeji's works outside of Japan. She is currently working on her book manuscript titled:
Beyond the Modern Beauty: Takehisa Yumeji and the New Media Environment in Early Twentieth-Century Japan
.
---
Yoimachigusa (Evening Primrose), Takehisa Yumeji
Nihon no Hanga Museum, 1938-1938

Credit: Nihon no Hanga Museum

YUMEJI'S MULTIMODALITY AND HIS DIVERSE MODES OF EXPRESSION

Dr Nozomi Naoi (NN)
: I chose this print because I've been researching the works of the modern Japanese artist Takehisa Yumeji for awhile now, and feel that it is representative of the kinds of images that Japanese people immediately associate with the Yumeji name. I'm currently writing a book titled
Beyond the Modern Beauty: Takehisa Yumeji and the New Media Environment in Early Twentieth-Century Japan
, and I actually bring this print up at the beginning of the book.
This specific print is a reprint of an original that was made in 1918. The original print was designed for a Senow music score sheet cover of the same title,
Yoimachigusa
, which means Evening Primrose. It's a flower that's known to only blossom in the night time, and so Yumeji used it as a metaphor for unrequited love. Yumeji is famous for these dainty beauties with elongated bodies and expressive hands, which give an almost nostalgic or melancholic feeling to the figures.
The song presents a very melancholic atmosphere, and is sang by a female operatic singer. Her sustained vibrato is accompanied by the sound of a wistful, single violin. During the 1910s and 1920s, the song itself became incredibly popular. The lyrics for the song had been adapted from a poem that Yumeji himself wrote for the magazine
Shōjo
(Young Girl) in 1912. The violinist, Ōno Tadasuke, then composed music around that poem. Following its debut performance in 1917, Senow Music Publishers decided to issue the musical score the next year and asked Yumeji to design its cover. We see Yumeji's multimodal production just through this one work.
The song starts with the lyrics:
Matedo kurasedo konu hito o
Waiting and longing for the one who will not return
The rest of the lyrics go:
Yoimachigusa no yarusenasa
The despair of the evening primrose

Koyoi wa tsuki mo denu so na

Tonight it seems that even the moon will not appear
Here, we see poetry, song and design. Yumeji, however, works in very diverse modes of production that engage in the visual, textual, and audio. His works have appeared as illustrations in literary magazines, and he also writes novels and poems. Yumeji also produces paintings, book cover designs, clothings, stage sets, shop merchandise, advertisements as well as commercial designs.
POPULARITY AND AUDIENCE


NN: Owing to the wide range of his artistic production, Yumeji's works touch a broad audience. He produced illustrations for magazines whose target clientele were young men and women, and so he has fans within this particular demographic. At the same time, his works reached the artists and writers of the time.

A little known fact about him is that his works found resonance with ardent socialists as well. Yumeji created illustrations for socialist bulletins that were anti-war or anti-government. This is something that I discuss more in my upcoming book, because it is a fascinating aspect of his oeuvre. This connection isn't something you expect of an artist that produces images such as the one we're looking at today. So he does have that range, both in his audience and his production.
THE "YUMEJI-STYLE" AND SELF-FASHIONING AS AN ARTIST
NN:
Yumeji's name started becoming a brand in and of itself. In 1914, Yumeji opened a shop and called it the Minatoya, or the Harbour Shop. In the shop, he sold his own prints and merchandise — things he designed himself such as clothing, stationery and dolls. For us today, the concept of branding one's own image and using this brand commercially might not come as a big surprise; but back then, this was a pioneering endeavour. Not only was it novel for Yumeji to have worked with different media, the idea that he branded his own objects was groundbreaking as well.
The Japanese scholar Takahashi Ritsuko has discussed the Yumeji name and the "Yumeji-style" as a social phenomenon that goes beyond just his artworks.1 That term, the Yumeji-style or the Yumeji-shiki, actually comes to identify his depictions of beautiful women. In Japanese, these are called
bijin-ga
. It describes a genre of prints and pictures that portray beautiful women, and is a tradition that dates back centuries. Given the history of this genre in Japanese artistic production, the women within Yumeji's works began to be identified as Yumeji-style beauties, or
Yumeji-shiki bijin
. This newly acquired terminology was broadly used to describe works that were stylistically similar to Yumeji's.
There are records from girls and women who lived in early twentieth century Japan, and in them they talk about how they want to be a Yumeji-style beauty. This particular one is from 1911:
At the commemoration festival of the First High School, there was a student in the south dormitory who would peer out of his second floor window and whisper, "Hey, there goes a Yumeji-stye girl!"

In fact, during those days, it was said that only a sparrow or a bird would not be attracted to the kind of woman depicted in Yumeji's work. The schoolgirls would all prance about trying to be "Yumeji-style beauties". My younger sister, who will be close to forty this year, came back from school in Takebaya-chō at that time and said delightedly, "Brother, someone just called me a Yumeji-style beauty on the street".²
This account was written by the doctor who attended to Yumeji at his deathbed, recalling the comments his sister had made when they were younger. Another account I recall is from the principal of a girls' school, and he said that there wasn't a single girl that didn't own something made by Yumeji from the Minatoya shop. We can tell that beyond his works, Yumeji had popular impact in modern Japan. His practice formed the initial attempts at reaching out to a general audience beyond the confines of art.
YUMEJI TODAY

NN: The song, Evening Primrose, became popular in the 1910s and 1920s. It was soon associated with the image and name of the artist, Yumeji, and that association continues until today. When I go to a Yumeji exhibition in Japan, I often hear a modern version of Evening Primrose playing in the background.
In Japan today, Yumeji's name and works are ubiquitous and quite recognisable. One could go into any stationery store in Japan today, and find objects in the store that are designed with Yumeji's images. These are, of course, very similar to the sort of items that he would have designed and sold himself at the Minatoya shop. We see that his self-fashioned profile as an artist is still consumed by Japanese people today, and that is a really interesting continuation.
For example, the Japanese casual wear label
Uniqlo
has launched a line of lightweight kimonos (
yukata
) with Yumeji's designs for its 2007 summer season. Yumeji himself created clothing and kimono acessories such as detachable collars (
han'eri
) and
obi
.
In 2014, different kinds of clothing and merchandise were produced to commemorate the 130th anniversary of Yumeji's birth. His image was also plastered on buses and trains for the occasion.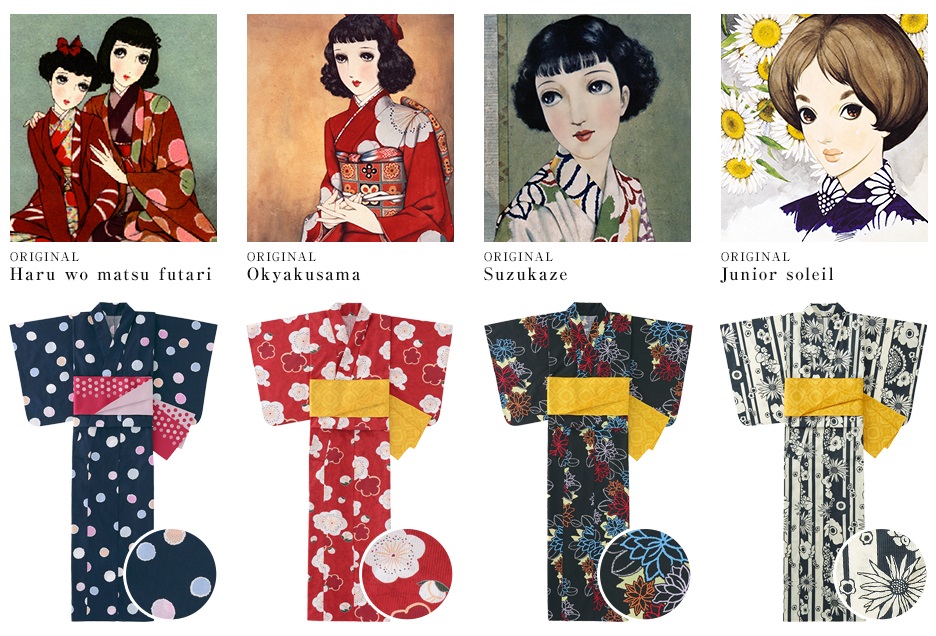 Reflecting this popularity are the six museums in Japan that are dedicated to his works. In comparison to other artists of his generation or earlier, this is an astonishing number of institutions, and it really speaks to the contemporary level of interest in Yumeji and his works.
THE NIHON NO HANGA COLLECTION


NN: As an art historian and a scholar, what is difficult about studying Yumeji is that despite his popularity and social impact, there hasn't been much academically written about him yet. Scholars have only just started to place him and his importance within the larger trajectory of Japanese art history. Art historians in Japan started writing about Yumeji in an academic sense during the 1960s, and the first solo exhibition devoted to Yumeji's work in the West was held in 2015. It was at the Nihon no Hanga Museum, and I was involved in the exhibition as the co-curator. That really helped to expose Yumeji and his works to a global audience, and piqued international interest in him.

The Takehisa Yumeji Gakkai, or the Takehisa Yumeji Research Society, was founded in 2014. The society strives towards producing more scholarly research on Yumeji, and to encourage scholars from all around the world to do research into his works. This interest in wanting to bring Yumeji onto the international stage has been quite a recent trend. The society awarded my co-author and I the first Takehisa Yumeji Research Society Award for our contributions in the Nihon no Hanga exhibition, and we are hoping that as much as Yumeji's works continue to touch contemporary Japanese people, that our scholarship in the English-language will allow his works to reach a global audience as well.
Bibliography:

¹ Takahashi Ritsuko, Takehisa Yumeji; shakai genshō toshite no "Yumeji-shiki" (Tokyo: Brucke, 2010)
² Masaki Fujokyū, Takehisa Yumeji jonan ichidaiki 3–4, trans. Nozomi Naoi (Tokyo: Bungei Shunju, 1935): 32.

Related Publications:
1. Naoi, Nozomi, Sabine Schenk, and Maureen de Vries. Takehisa Yumeji. Leiden: Hotei Publishing/Brill, 2015.
2. Naoi, Nozomi. "Beauties and Beyond: Takehisa Yumeji and the Yumeji-shiki". Andon 98 (2015).
3. Ritsuko, Takahashi. Takehisa Yumeji: shakai gensho toshite no "Yumeji-shiki". Tokyo: Brucke, 2010.
---