Born in 1961, Bangkok,
Pinaree Sanpitak
is one of the most established Thai conceptual artists of her generation. Her artistic practice revolves around the human body and form as a vessel of experience and perception. A recurring motif in her work, the female breast is distilled into its basic form of vessel and mound, resembling the Buddhist stupa (shrine) and offering bowl on occasion. Her sensorial inquiries also reveal a keen sensitivity towards a range of materials such as textiles, glass, ceramic and metal, informing her various approaches in collage, drawing, painting, printmaking, and sculpture. Over the past thirty years, Sanpitak's work has been featured in numerous museums and major biennales across Asia, Europe and the United States.
As an established and respected artist, Pinaree's practice and her works are no strangers to the international art world. Over the past two months, two solo showcases of Pinaree's works opened in Singapore at the
STPI - Creative Workshop & Gallery
and
Yavuz Gallery
respectively. We sat down with the artist to talk about what has inspired her over the years, and the playful experimentation involved in working with new materials.
For your selection, you picked out the two materials of food and paper. Your works in both materials involves a lot of collaboration, or navigation around what is possible to execute and what isn't with the help of other people's expertise. How do you view this aspect of art making, and is this something you consciously seek out when working in such materials?

I wouldn't say that I consciously seek out this mode of collaboration, but I think there's always a relationship between the personal and the public and the ways in which I work reflect this. In my personal studio, I don't have a full-time permanent assistant helping me out all the time. Depending on the projects I'm working on, I may have a couple of assistants coming in to assist. But most of the time, it's just me and the canvas or my drawings in the studio. I need that privacy, and I need that solitude always.
When I started to create works that explore how we perceive through our senses, I began to work more collaboratively with others. The starting point for me was the sense of touch, but I moved on into thinking and creating works about how we taste. I had already been working with the form of the breast stupa for some time, so I incorporated this into
Breast Stupa Cookery
, which I started in 2005. This was my way of asking audiences how they saw or understood these forms, and how these forms could be integrated into food. With
Breast Stupa Cookery
, I don't tell the chefs what to do. I just provide them with the moulds, and ask them to play around with these shapes. That's how, I think, I approach collaborative works. It's not about being the leader of a team of people. When you work with another expert, you need their expertise. I'm not a chef, for example, I wouldn't know what a chef knows. This was how I approached the body of works I'm now showing at STPI - Creative Workshop & Gallery. In order to create these prints, I only gave the print and paper makers at STPI a sort of framework. I really wanted to give them the space to work their magic.
Having worked so closely with the print and paper makers at STPI, and given your experience with working across several different mediums, what do you enjoy most about paper and its qualities as a material?


From the very beginning, even as an art student in Japan, I started out with paper. I like how paper is incredibly fragile, yet it is also a very strong material. That was how I approached making works such as The Walls. Paper is often associated with frailty, but with The Walls, I wanted to give them an almost concrete-like quality. I wanted to create borders and build territories with this paper. At the same time, these walls shift and move. There is this slippage between the tangible and the intangible, and I like how paper, as a medium, is able to evoke that. This was something I really wanted to bring out with this work, because this is how we live today.

¹The Walls, Pinaree Sanpitak
2018 - 2019, Installation View at STPI - Creative Workshop & Gallery

Photography: Toni Cuhadi © STPI, all works © Pinaree Sanpitak/STPI
During a short walk through of the exhibition at STPI, you talked about approaching the medium of paper and print-making with the perspective of a painter. Could you expand on what you meant by that statement?

Although these images seem flat, I see the layers of paint that I apply onto these images as providing depth. This was something I tried to achieve with the works I made at STPI as well. The paper we use is flat and two-dimensional, but we worked to build up several layers within the paper itself in order to create depth.
I also used painterly techniques when working with the pulp itself. This can be seen in
The Walls
, because we were testing out different pulps for the work. I see these pulps as colour — we were mixing all of these materials, and adding in pigments such as brown or ebony.
It's paint, but it is paint made of pulp.
Beyond working with paper, you've worked on large-scale installations, ceramics and rattan — just to name a few. How has a painter's perspective has informed your experimentations with other materials?


Taking the example of The Walls again, I see the entire work as a whole. I approach the panels as you would brushstrokes on a canvas. These panels are in dialogue with each other, and it's a sort of composition. There are layers to the work, and depth is important. This is why it's always important for me to be onsite whenever a work of mine is being installed. I have the final layout in mind, and a mock up of the work was sent to me, but I have to be present. I have to walk around it and walk through it to see how it all comes together. During the installation of The Walls, I shifted some of the panels around but the walkways have remained the same. I think it works well for the space it is in.
As someone who is interested in the materiality and messaging of a work, how do you see the two components feeding into each other? Does one come before the other, or do they build each other up in a cyclical feedback loop?

I've been slowly building the concept for these exhibitions over the past two to three years. I've been interested in space and how people interact with space. I explored these ideas in
The House Is Crumbling
at the
National Gallery Singapore
and with
The Roof
at the
Winter Garden
in New York. It was about building these ideas, and finding the right solutions for them. You can't tell how long it's going to take to get it right, but when it happens, you just know.
² Various Works, Pinaree Sanpitak
2018 - 2019, Installation View at STPI - Creative Workshop & Gallery

Photography: Toni Cuhadi © STPI, all works © Pinaree Sanpitak/STPI
You are known for creating works of art that encourage interaction and contemplation, and many of your recent works have nudged viewers to consider their relationship to the spaces they move through. Why has this embodied experience become so important for you, and do you think art can play a key role in encouraging audiences to pause and think about the sort of spaces they inhabit in our world today?

Before I started doing these large-scale immersive pieces, I was thinking about how viewers encounter my works.
Often, audiences spend a lot of time looking at something. It's not always a touch and go kind of experience, and I think we need to slow viewers down.
It has been a challenge for me to get audiences to spend more time with themselves, their surroundings and the work. I was later given the wonderful opportunity to propose site-specific works, and that exercise was really exciting for me. I approach each site and each material differently, so I like challenging audiences with these new explorations.
You have another solo exhibition in Singapore at Yavuz Gallery later this year, titled Bodily Space: Confessed and Concealed. It will be interesting as a viewer to be able to see that exhibition concurrently with this one at STPI, which is named Fragmented Bodies: The Personal and The Public. The titles of these two exhibitions suggest a dual focus on bodies and the nature of space. How are the exhibitions differently focused, and what is the sort of understanding you wish for audiences to take away from either show?

Ever since I accepted the artist residency at STPI, we planned for these two exhibitions to overlap. I live and work in Bangkok, and moved to a new studio about two years ago. The new studio is a larger, and the space has better lighting as well. I really wanted to get back into painting again, because painting demands that the artist stays put and continues work on a canvas for an extended period of time. I started making these large canvases in red, and you can see a real continuation between these large canvases and the 'Red Alert' series I've been working on. As you know, I've been working on the female being and feminine forms for a long time but it's still an important issue today. I wanted to see how these forms would look like in bright red, and that's how I approached the print works in the beginning. I wanted to do a series of prints that depicted the breast vessels in red. At Yavuz Gallery, there'll be thirteen pieces on display. Audiences will definitely see concepts and images within these paintings that relate to the prints at STPI.
I have tried conveying the same concepts in different materials, and showing these works across different venues simultaneously before. In 2002, I had an exhibition at the
Bangkok University Art Gallery
titled
Breast and Beyond
. Three large installations,
Noon-Nom
,
Offering Vessels
and
Breast Stupas
were shown across different venues. In 2011, I had a three-part show titled
Body Borders
. The first part was at
The Art Center at Chulalongkorn University
, and it featured the hanging sound installation,
Anything Can Break
. The second part was held at
H Gallery
, and featured my rattan flying cubes. The final venue,
100 Tonson Gallery
, showed a selection of my paintings. This was all intentional. I wanted audiences to draw the dots in connecting how I work, and to give them a glimpse into the inner workings of my mind. I let the works speak for themselves.
³ Various Works, Pinaree Sanpitak
2018 - 2019, Installation View at STPI - Creative Workshop & Gallery

Photography: Toni Cuhadi © STPI, all works © Pinaree Sanpitak/STPI
You've worked with flying cubes for awhile now, and have made them in materials such as paper and rattan. Could you tell us more about how you began to work with these flying cubes, and how you've incorporated them into different installation works in various spaces?

I encountered origami many years ago in Japan. I was so intrigued by it, but at that time, I didn't know how to incorporate it into my works. I just kept folding and folding, and this went on for two or three years. The first time I created a large-scale work with these forms, they were scarecrows in the rice fields of Chiang Mai. These flying cubes were scarecrows first, and these cubes were made out of rattan. Rattan is a very sturdy material, and so I made another version that audiences could sit on. I wanted audiences to be able to feel and touch the visual impact of these forms, and so experimenting with rattan made a lot of sense.
It was also about this time that I started working with the breast clouds. It soon became clear that everything was in flight, and that was how
Anything Can Break
came along. The installation started off with just the glass clouds, but when the flying cubes came along, it just made perfect sense. Together, the mathematically precise cube forms and the organic glass clouds combined beautifully. Furthermore, the paper used to create the flying cubes served as a wonderful buffer for the sound. I had been thinking about how sound could be incorporated into my works, and so this installation allowed me to work with musicians and composers as well. I work with these composers the same way I work with chefs. We talk about the ideas I have for the installation, and they are then free to compose the music however they like. For
Anything Can Break
, a 16-track soundtrack was composed. As audiences move beneath the installation, the score is written and rewritten based on their movements and how they meander through the work.
I continued experimenting with sound in a later exhibition at the
Jim Thompson Art Centre
titled
Temporary Insanity
as well. Ultimately with the flying cubes and the hammocks (in
Hanging By A Thread
), I was able to show that my works are not just about the breast. It is the body that I've been working on. With the flying cubes, geometric elements were introduced into my works.
Your works have encouraged viewers to consider art as an all-encompassing sensory experience, as compared to a primarily sight-based affair. You encourage audiences to touch, to smell, to taste. A sensuous understanding of art is not something that viewers often associate with gallery or museum spaces. Why has this tactility or sensuousness remained important for you to explore, prioritise or experiment with in your works?

In museums or galleries, the first rule is that viewers are not allowed to touch the works on display. I encouraged viewers to take off their shoes to enter a space with works such as
Noon-Nom
, and it brings me great joy to see how audiences react to and spend time with the work. One sense is always linked to the others as well. When you excite the sense of hearing, for example, you often engage their other senses as well. Often, it takes time to warm people up to such experience as well. It's not something that we're used to.
I take this as a process of learning. It is important that I learn from my audiences and collaborators when making work.
It sounds like these works have opened up interesting conversations between yourself and these audiences. Could you tell us more about how these conversations have buoyed or shifted you along understanding just how audiences continue to relate to the installations you create?


Some viewers relate to these installations on a very personal level, and this is especially so when the work comes from a personal place for me as well. Others see them in terms of the social as well. Coming back to The Walls again, you can see how one can relate to the work on both the social or the personal level. Going beyond that, it could even be political or environmental too. I enjoy creating works that are not confined within a single definition. The works are multi-layered, and they reflect just how varied audiences' encounters with them can be.



⁴ Anything Can Break, Pinaree Sanpitak
2011, Installation View at Museum of Contemporary Art Australia, 18th Biennale of Sydney
You've worked with the motif of the breast-stupa for a while now, and this is something that recurs in the works you're showing at STPI and Yavuz Gallery. Conversations around womanhood and femininity have evolved so much in recent years, and the urgency and relevance of these issues is reflected in the striking colours you've used in these works. How has your relationship to this motif, and using this motif, developed over time — particularly as our understanding about these issues continue to shift?

I think you can think of these images as self portraits. I constantly bring new narratives or new developments in our understanding into how I use these symbols, so you can even see them as short stories.
I started creating these breast works in 1994, and more than thirty years have passed since then. The woman I am now is quite different from the woman I was when I first started. I started making these works when I gave birth to my son.
At that time, I wanted to make a monument for womanhood and not just a monument for motherhood.
We revere the woman as a mother, but the woman herself sometimes takes a backseat to that role. This is an issue that we still have to work on today. It is only by constantly referencing and bringing attention to these matters that they will begin to matter.
The quote that opens up the exhibition at STPI speaks of the human experience more largely. It reads, "It's not just about the woman. A lot of it is about being human, sharing a space, and how we interact with each other". In referencing the image of a breast, something that is often thought of as a symbol of femininity or womanhood, how do we draw upon the human experience or include others who might not immediately relate to that symbol because of their own gender identity?


The breast is a breast, but there are other meanings embedded into it. You can think of it as a receiver, a vessel, and a giver, and I've incorporated these nuances into how I visualise the breast as a symbol. In combining these images with works such as The Walls, I'm hoping that the entire exhibition makes sense to the viewer. It's about these fragmented bodies, but it is also about the viewer's own body navigating through the space. That is what makes the work complete.
⁵ Various Works, Pinaree Sanpitak
Installation View at Yavuz Gallery

Photography: Yavuz Gallery, courtesy of the artist and Yavuz Gallery
Having worked with so many different mediums, are there still particular projects or materials that you'd like to continue playing around with?

I'd still like to explore making works in glass. I've been fortunate enough to have made a couple of works in glass before, but I think there are still more things that I've yet to try out. Although I've worked a lot with paper, I think there's still more to be discovered there. I'd also like to work with something intangible, like air or light.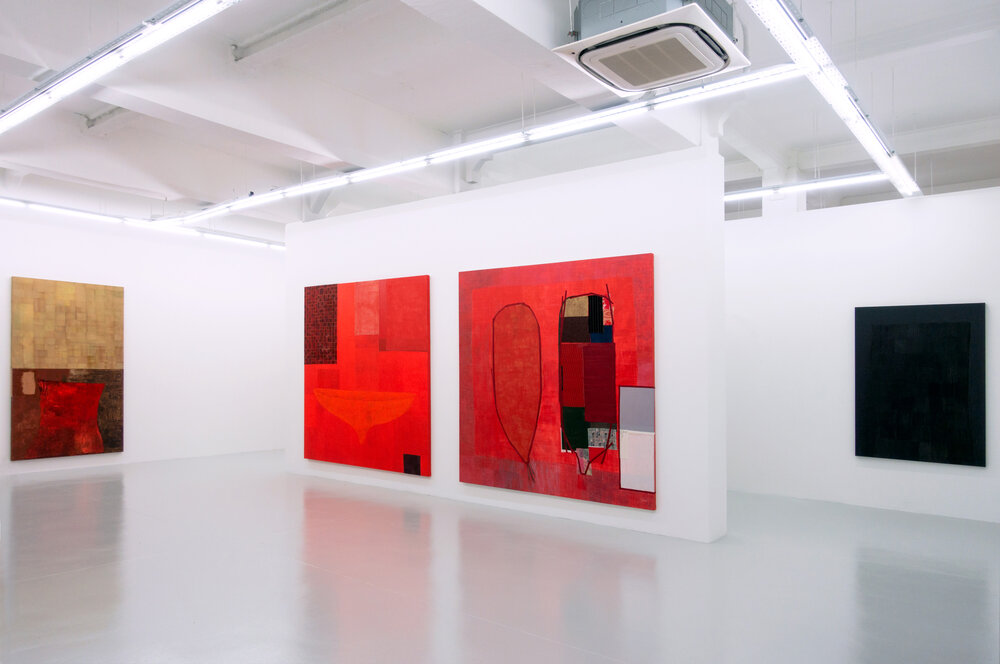 Fragmented Bodies: The Personal and The Public
is now open. The exhibition will run at STPI - Creative Workshop & Gallery until 3 November 2019. More information about the exhibition can be found
here
.
Bodily Space: Confessed and Concealed
is now open. The exhibition will run at Yavuz Gallery until 17 November 2019 More information about the exhibition can be found
here
.
---