Nestled in the south of Singapore is the famed
Haw Par Villa
, an outdoor garden of imaginative sculptures and fantastic dioramas built in 1937 by the Aw Brothers. The park has withstood the test of time, and continues to play host to a wide array of events today. Yet what continues to draw visitors to the park is its bizarre array of characters and uncensored depictions of moralistic narratives. In this interview, we speak to Savita Kashyap. Savita and her team manage the sprawling park, working to ensure the continued relevance of the park for audiences today.
Savita Kashyap is the Executive Director of heritage specialist, Journeys Pte Ltd, and associate company, Singapore History Consultants Pte Ltd. Co-founder of the award-winning heritage tour, The Original Singapore Walks®, she specialises in research, curation, tour design and training. The lead consultant for many innovative and highly-successful in-house and joint projects, Savita is also the co-curator for two upcoming museums in Haw Par Villa, Hell's Museum and Rise of Asia Museum.
---
¹ Ten Courts of Hell, Haw Par Villa
c. 1950s

Photography: Journeys Pte Ltd
A MICROCOSM OF CROSS-CULTURAL HISTORIES

Savita Kashyap (SK)
: The Ten Courts of Hell were built by
Aw Boon Haw
, the creator of
Tiger Balm
, in the early 1950s — just before he died in 1954. Aw's version of the Ten Courts of Hell reflects the traditional Chinese perspective of the afterlife. What's particularly interesting is the history behind these stories. If you were to dive deeper into the
Ten Courts of Hell
and how these stories came about, they are an amazing combination of
Hinduism
,
Buddhism
,
Taoism
and
Confucianism
. They are really a culmination of four different religions. In order to give you a sense of how intertwined these traditions were, let's look at the kinds that preside over each court of hell. In charge of the fifth court of hell was King Yanluo. His name is a transliteration of the Sanskrit word
yama
(यम).
Yamaraja (King Yama)
is the lord of death and the underworld in Hinduism. In Buddhist tradition,
Yama
is judge and king of the underworld. The stories of the Ten Courts of Hell really exemplify the sort of cross-cultural exchange that happened between the ancient civilisations of China and India.
We don't refer to any of the stories featured here in Haw Par Villa as mythologies. We're in the midst of this paradigm shift, where we're trying to help viewers understand these classical stories, moral teachings, religious traditions and histories as part of Chinese culture. If one were to refer to stories from Islam, Christianity or Buddhism as mythology, it would probably offend those who are followers of those faiths. As such, we're trying to get viewers to see the context and source of these stories that are shown here in Haw Par Villa.
What we are trying to do in our management of this unique park is to get people to look beneath the surface. For most of the viewers going into the Ten Courts of Hell in Haw Par Villa, you'll observe them gawking, laughing or maybe getting a little spooked by the gory scenes of punishment. Many of them could walk out of the tunnel none the wiser about what these stories really mean. When you ask people to think of Haw Par Villa, often the first thought that comes to mind is whether the Ten Courts of Hell are still there. Instead of resisting the strong interest audiences have in the Ten Courts of Hell and its stories, we've decided to embrace it and use it educationally. We're in the midst of developing a museum, possibly the world's first, on hell. The upcoming Hell's Museum will focus on how different religious concepts came together over hundreds of years, and will also explore the belief systems that different cultural traditions hold in relation to the afterlife.
² Ten Courts of Hell, Haw Par Villa
c. 1950s

Photography: Journeys Pte Ltd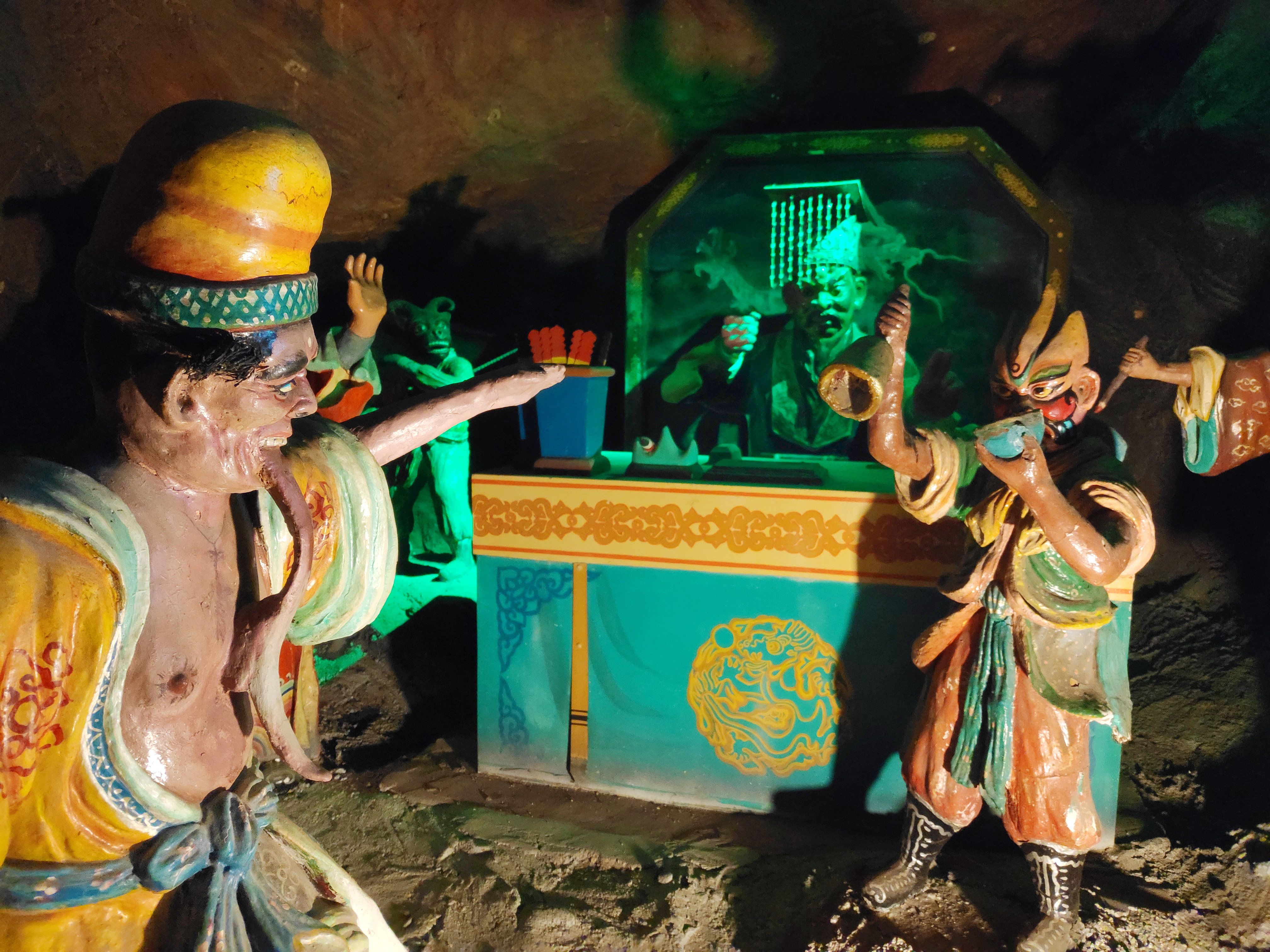 OUTDOOR SPACES OF RECREATION AND STORYTELLING

SK
: We understand that in the 1950s and 1960s, Haw Par Villa, or Tiger Balm Gardens as it was known then, was an extremely popular attraction, especially during Chinese New Year. The gardens were home to the Aw Family — Aw Boon Haw built a villa here for his beloved brother
Aw Boon Par
in 1937. The Aw Brothers decided that they would open their home and their gardens up for the general public, because the public had very few if not no recreational spaces to go to. Throughout the 1940s and the 1960s, the park was, for the most part, frequented by Singaporeans. Furthermore, a large proportion of the Chinese-speaking populations then prescribed to Taoism. They made up 30% of the resident population in Singapore even by 1980. Today, that percentage is closer to just about 11%. You can imagine that these stories here at Haw Par Villa resonated with a great number of visitors at the time. They grew up listening to the stories narrated by
Lee Dai Sor
on the radio channel,
Rediffusion
. They would also have been very familiar with the Chinese classics and moral teachings. You can imagine that walking through this park would have allowed them to connect these visual tools to their roots — and that was exactly what the Aw Brothers set out to do with the park.
The gardens are primarily outdoors, and the sculptures are in need of constant care. We employ two artisans from China, both of whom were personally trained by one of the artisans in the original team, Mr
Teo Veoh Seng
. He has trained them in the art of restoring and maintaining the sculptures. Many of the sculptures in the park have been here since it was opened in 1937, but others were added in the 40s and 50s. In fact, sculptures were still being added to the park as late as the 1970s. These works do suffer from being exposed to the elements, so the state has commissioned professional conservators to do a careful inventory of the state of the sculptures. This review was completed recently, and they will now move into conducting careful restoration for the sculptures that require it.
A
similar space can be found in Hong Kong
as well, and at some point, the two parks were both known as Tiger Balm Gardens. There were definitely a great number of similarities between the two gardens. Both Tiger Balm Gardens were painstakingly put together by Aw Boon Haw, who walked through them every morning with his artisans. The artisans that oversaw the projects in both Hong Kong and Singapore were the same as well. They were the two brothers Kwek Hoon Sua and Kwek Choon Sua. This is why both Tiger Balm Gardens use similar materials, and share similar narrative stories and aesthetic styles. In particular, both gardens featured rolling mountains, grottoes and caves prominently. Having said that, there are striking differences between the two Tiger Balm Gardens as well. A key reason for this was the difference in terrain. The Tiger Balm Gardens in Hong Kong were set across steep terrain, and this terrain was used to create a terraced landscape. Aw Boon Haw directed the creation of dramatic cliff faces, and these walls would have stunning features that would greet visitors as soon as they entered the park. In comparison, the terrain for Haw Par Villa here in Singapore is a lot more gradual. On top of the difference in terrain, another big difference between the two gardens was that the Tiger Balm Gardens in Hong Kong was completely Chinese. This is in terms of design, style, and architecture. The language used throughout the park was Traditional Chinese. In Singapore, we see a combination of both Eastern and Western styles of architecture. Although the sculptures and dioramas here in Pasir Panjang are predominantly Chinese, they do feature non-Chinese elements as well. I think the main reason for this difference was that Aw Boon Haw wanted to showcase the family's success and wealth. The villa in Singapore was built in an architectural style that was popular at the time —
Art Deco
, whilst the gardens retained the motifs and design styles of traditional Chinese architecture. This positioned the Aw Family as modern entrepreneurs who were dedicated to traditional Chinese values. The Aw Family was incredibly philanthropic. They committed 50% of all profits to charity, and this was even inscribed into the company's constitution.
³ Sculpture Garden, Haw Par Villa
1937

Photography: Journeys Pte Ltd
POSITIONING HAW PAR VILLA FOR MILLENNIAL AUDIENCES

SK
: We're constantly thinking of how we can make Haw Par Villa relevant for modern audiences, and we're fully aware that there has been a disconnect for a couple of decades. Some Singaporeans don't even know that Haw Par Villa is still an attraction that remains open to the public. We've put a lot of careful thought into how we can revive interest in this space, and get visitors to connect to the sort of stories that are shown here. One of the key things that we've decided to do is to embrace the quirkiness and eccentricities of the park. We call this Singapore's largest outdoor gallery. Instead of being pedantic about teaching each diorama or each story, we're trying to bring in events that would draw audiences to Haw Par Villa and allow them to learn about these sculptures themselves. We have a daily guided
tour
, and we do twilight tours in the evening as well. Over the years, we've been able to go deep into these stories and to present them in a way that resonates with visitors. For example, our twilight tours weaves together the origins of the park, the origins of the Aw Family, how death stalked the family (several men who ran the business died before their time), and the story of the Ten Courts of Hell.
We've also opened up the park to music concerts, festivals and parties. As a team, we take special care to ensure that the sculptures in the park remain unharmed. These events draw a very different crowd of people in, and they've allowed us to see that there's a very special place for Haw Par Villa in the hearts of Singaporeans. Most, if not all, Singaporeans will have visited Haw Par Villa at some point in their lives. As they walk through an East Asian version of Alice in Wonderland, we work towards sharing a little bit of these stories with all the visitors who come by. We believe that given the right treatment and management, that these stories can still be made relevant for contemporary audiences.
Social media has also played an interesting role in all of this. It has allowed viewers to be enchanted all over again with Haw Par Villa, and I think the park provides a great contrast to the digital world that we now live in. There is a beautiful old school feeling to the experience of being confronted by 3D, tangible art forms. The dioramas in the park are not all didactic. In fact, most of them are incredibly quirky. You have chickens, rabbits, goats, pigs, mermaids, half-human half-animal forms, and birds of all kinds surrounding you. If viewers come by to embrace the quirkiness of Haw Par Villa, I think they'll be richly rewarded.
---